Max Mercury Memorial Page
---
"After losing his connection to the Speed Force, the hero known as Max Mercury was stuck down. Max Mercury, a hero spanning countless decades will be laid to rest soon. The JLA, Young Justice, The JSA and all of the heroes and even some villains all will pay homage to this great hero. Here is your chance to let the world know how you feel about this great man, and DC Comics legend."
- Craig Young (moderator of Young Justice: The Hangout)
For webmasters, if you'd like to, please feel free to use the graphic below as a link to this page, and to show your condolences for the death of this great character.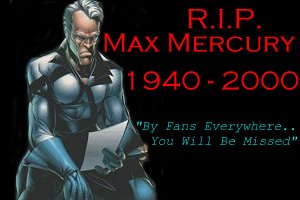 ---
Date:

10 Aug 2000

Time:

01:21:00

Remote User:

-
Comments
MAX,
I miss you
BART
---
Author information goes here.
Copyright © 2000 by [YJFAN]. All rights reserved.
Revised: 21 Aug 2000 20:05:08 -0400 .